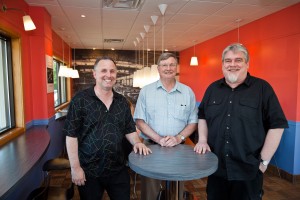 Our flagship store, located at the West end of Corning's Historic Gaffer District, was opened in 1985 by 3 brothers and their father – a true family affair. Ronald Reagan was the US president and Coca-Cola had just changed their formula. The plan for the business was to feature NY Style Pizza along with salads, subs, and chicken wings. Customer service would be given special attention in the form of friendly staff and for the first time in the area acceptance of major credit cards. We would also be the first to offer Free Delivery.
After nearly 10 years of operation, 1994 becomes a year of changes for Rico's with major renovation to the stores and development of a theme for the decor at Rico's. Robert Manchester Design was hired to create a theme that would differentiate Rico's Pizza New York Style from the rest of the competition and position Rico's in the market place as unique innovator not just in pizza choices but also in dinning decor as well. Until this day customers are still intrigued by the dining space designed by Robert Manchester.
The next innovation was to offer more than just cheese pizza by the slice, so we began to create pizzas like, the Mexican with jalapeños, White Broccoli with Garlic and just about everybody's favorite Chicken Wing. These additional selections gave our customers something more to look forward to at lunchtime and for dinner.
The Rico's Pizza NY Style family expanded first in 1992 with the addition of our Horseheads store and again in 2011, with our Bath store. Customers enjoy the unique spirit and flavors of Rico's across each of our fantastic locations.